With chemistry in her character
by Marika Azzopardi
When Alison Anastasi started studying to become a pharmacist, little did she know she'd become one through and through. Seven years down the line, she is today Principal Pharmacist at the Directorate of Pharmaceutical Policy and Monitoring (DPPM) at St Luke's Hospital, and has been in this post for the past year. We meet at her office in a building which is surprisingly neat and well-organised…. But then what would one expect of a place housing professional pharmacists intent on monitoring the profession?
Alison is herself very disciplined in what she does and the simple fact that she holds such an important post at the relatively young age of 30 is significant. Starting from a first post at the Extemporaneous and Chemotherapy Section in St Luke's Hospital, she was thrown in at the deep end. "My work was in compounding specialised medication for very special patients, mostly paediatrics. For me, at such a young age, being given the responsibility of preparing medicine for children in a situation where their health was so precarious….. well, let's say it was an extremely sobering experience. It made me fully aware of the great responsibility shouldered by a pharmacist. It's not simply about picking bottles off a shelf."
Her next experience was in the Out-Patients and In-Patients Department when she went into Formulary Management, taking care to keep a balance in stocks of medication, dealing with shortages and the general running of the biggest pharmacy on the Islands. Alison speaks somewhat fondly of this experience because she knows fully well that if one learns to manage such a fluid pharmacy, one can manage any pharmacy. Then came the migration to Mater Dei Hospital.
"The migration was another big task which landed on my lap and which taught me a great deal. Admittedly, I am always seeking new ways of enlarging my expertise where pharmacy and pharmaceutical supplies are involved.  I got the opportunity of training in Disaster Preparedness which helped me in learning to work in collaboration with the Emergency Department. It wasn't and isn't something I do for the money because in most instances it is something done on a voluntary basis. I volunteered at the huge public events such as Isle of MTV and was also involved in the 2005 CHOGM. It is the kind of work which allows me as a pharmacist to work in collaboration with doctors, advising on the best medication to take 'on the field' so to say."
Today, she admits she misses that direct contact with doctors, with medics, with staff on the ward rounds and with patients. Her role as Principal Pharmacist is mostly administrative but she keeps tabs on the hands-on part of the profession by doing regular locum hours in community pharmacies. Alison amazes me further when she flippantly mentions that since her graduation, and in her free time, she has also managed to cram in a course in Nutrition and Dietetics which she completed successfully and also got a Masters in Pharmacy. And she is actually in her first year of studies for a PhD in Pharmacy, delving into the research of a very specific topic – Pharmaceutical Case Models in Heart Failure.
Her work at the DPPM is pretty intense and involves responsibilities linked to all Government and Health Centre pharmacies. The DPPM is responsible for the Medicines Entitlement Unit; the inclusion of new drugs on the government formulary; ongoing formulary maintenance; the Pricing Unit; the management of exceptional and urgent treatment cases and the participation within EU international foras. Being also involved in the Pharmacy Council as one of the elected members, Alison is serious about raising awareness on the general needs and obligations of pharmacists. She looks forward to work with the other council members to ensure that pharmacists in Malta continue to perform to the highest standards to protect and promote public wellbeing, thus, keeping a well-regulated dynamic profession.
"From my experience in teaching pharmacy students at the University of Malta, I find that the numbers of new recruits in our profession is increasing every year. There are more female than male pharmacists, so we face the usual employment issues that can greatly hamper manpower – you know, pharmacists get pregnant too! Having said that, females still outnumber male pharmacists." Asked about what she thinks of the present state of the profession, Alison points out, "Some pharmacists appear to be deeply rooted in the traditional approach, mainly to the distributive practice model. To ensure a high-quality advanced practice,  pharmacists need to come in line and identify more with modern practices, such as pharmaceutical care and drug information." 
She also tackles the hot issue of pharmacist prescribing. "In other countries this practice has been going on for years. Pharmacists possess a wealth of knowledge on medicine so I believe that collaboration between doctors and pharmacists will work in favour of the patient whom both professions have at heart – priority is our patients!"
As a sideline, Alison speaks of her passion for travelling which helps  her unwind and put aside real life issues associated to illnesses,  It can become overwhelming to say the least, and whilst reading and watching films remain her two strongest favourite pastimes, she admits she prefers to read or watch fiction rather than true-life stories. "I have to deal with enough drama as it is. When I unwind, it has to be really and truly to try and get a good laugh every so often. There is more to life than just playing chemist."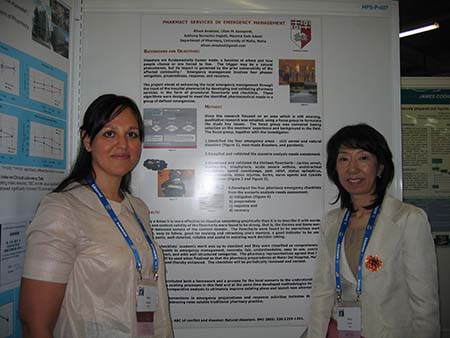 Tags In