Using an electric toothbrush helps prevent tooth loss
Greatest impact is maintaining good oral health
Also slows progression of periodontal disease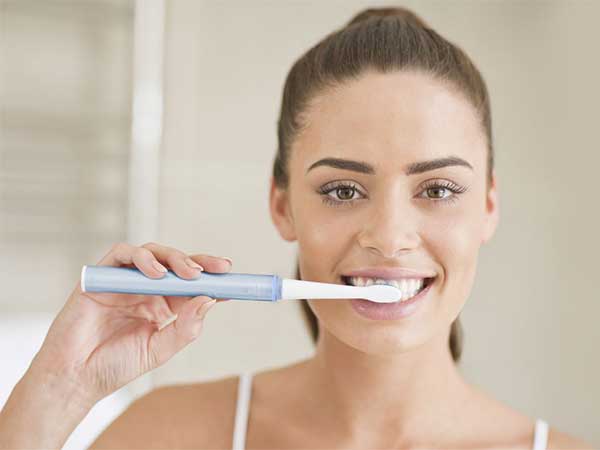 Using an electric toothbrush helps prevent tooth loss, according to a study published in the Journal of Clinical Periodontology (1), the official publication of the European Federation of Periodontology (EFP).
"Electric toothbrushes have become increasingly popular among all age groups in Germany (2) but few studies have tested their long-term effectiveness," said study author Dr Vinay Pitchika, of the University of Greifswald, Germany. "Our study shows that electric toothbrushes are most beneficial in maintaining good oral health and are linked with slower progression of periodontal disease."
The 11-year observational study investigated the association between electric toothbrushing and periodontitis, caries and number of teeth present. The study included 2,819 adults from the Study of Health in Pomerania (SHIP) study who were examined in 2002 to 2006 and were followed up after six and 11 years. At baseline, 18% used an electric toothbrush, rising to 37% at the 11-year follow-up.
Overall, electric toothbrush users experienced 20% less tooth loss during follow-up than manual toothbrush users. This translated to an average of 0.4 more teeth retained (out of 28 teeth). The benefits were slightly greater in regular (at least twice a day) electric (versus manual) toothbrushers. When participants were divided into groups according to the severity of periodontitis, the association between electric toothbrushing and tooth retention was significant only in those with no/mild periodontitis (and not in those with moderate or severe periodontitis).
In a healthy mouth, the gums fit tightly around each tooth. Periodontal disease causes destruction of bone surrounding the tooth, leads to deeper pockets around the teeth which can lead to tooth loss. The study found that electric toothbrushing was linked with less pockets and better attachment of teeth to the gums and bone. This was shown by 22% and 21% lower progression of probing depth and clinical attachment loss (see figure), respectively, compared to manual toothbrush users.
When participants were divided into groups according to the severity of periodontitis, significant associations with probing depth were observed in people with no/mild and moderate periodontitis, while the link with clinical attachment loss was found only in those with moderate periodontitis. There was no relationship between electric toothbrushing and the two measurements in those with severe periodontitis.
Dr Pitchika said: "People who already have relatively good oral health and minimal periodontal breakdown appear to profit the most from electric toothbrushing. Electric toothbrushes were much more effective as a preventive tool rather than when periodontitis had already progressed. People with severe periodontitis need periodontal treatment."
Dr Pitchika noted that people with good oral health tend to be younger, while those with periodontitis are usually older. But he added: "Previous studies have shown that electric toothbrushes seem to be better for plaque control in older people, who have reduced fine motor skills." (3,4)
There was no association between electric toothbrush usage and dental caries. "Compared to the type of toothbrush, we presume that fluoride has a major role to play in preventing caries or reducing progression of caries," said Dr Pitchika. (5)
---
Source: European Federation of Periodontology (EFP)
Full bibliographic information
Long-term impact of powered toothbrush on oral health: 11-year cohort study. J Clin Periodontol. 2019.
References and notes
1) Pitchika V, Pink C, Völzke H, Welk A, Kocher T, Holtfreter B. Long-term impact of powered toothbrush on oral health: 11-year cohort study. J Clin Periodontol. 2019. doi: 10.1111/jcpe.13126.
2) Jordan AR, Micheelis W. (2016) Fünfte Deutsche Mundgesundheitsstudie (DMS V). In: IDZ-Materialienreihe, Bd. 35, (ed.) I. D. Z. Zahnärzte, pp. 617. Köln: Deutscher Zahnärzte Verlag DÄV.
3) Verma S, Bhat KM. Acceptability of powered toothbrushes for elderly individuals. J Public Health Dent. 2004;64:115–117.
4) Whitmyer CC, Terezhalmy GT, Miller DL, Hujer ME. Clinical evaluation of the efficacy and safety of an ultrasonic toothbrush system in an elderly patient population. Geriatr Nurs. 1998;19:29–33.
5) Hujoel PP, Hujoel MLA, Kotsakis GA. Personal oral hygiene and dental caries: A systematic review of randomised controlled trials. Gerodontology. 2018;35:282–289. doi:10.1111/ger.12331.
Tags In