To Romania & Back
Marika Azzopardi
Maria Galea has recently graduated as pharmacist and talks to Marika Azzopardi on her recent travels
TS: How long have you been a pharmacist?
I finished my pharmacy course this summer and am going to graduate this December. I am working as a community pharmacist which I love. I consider my job as more than just a job … I consider it as a vocation and my passion.
TS:You were in Romania this summer, just before finalising your studies. How did you end up going to Romania?
I always wanted to do voluntary work but there never seemed to be the right time for it. When the opportunity for this voluntary experience came in the summer of 2014, I decided to take the plunge. After the wonderful experience of last year, the decision on whether I go again this summer was not so hard. Unfortunately I had to cut this year's experience by a week, due to unexpected thesis obligations.
TS: Why Romania?
I always knew that I would one day travel to a distant land on a voluntary mission but quite frankly never actually considered Romania. However, when I got to know of this experience being organized by a group of youths from the Naxxar Parish Church, I figured out that it was as good a place as any. It was pointless postponing any kind of voluntary experience till one had the time to do a longer experience or in a distant place.
TS: What were the purposes of this mission?
To raise funds to donate to the poor and needy, and to carry out mission work. We lived at a home of the Sisters of Mother Theresa in Chitila which is a short distance away from Bucharest. At this home the Sisters care for about 15 men who have severe disabilities, both mental and physical.
TS: What was your initial reaction when you arrived there?
Shock. In our communication before we went to Romania, the Sisters always referred to their residents as the boys'). However, when we arrived there, we realised that 'the boys' were actually adult men, aged 30 and over. Secondly, it is a culture shock having to take in a sudden change from our lifestyle to the kind of run-down village with its ensuing poverty and poor living conditions that is Chitila.
TS:How did you spend your days?
We helped the Sisters. We carried out extensive maintenance work, painted rooms, refurbished a chapel, helped to care for the 'boys' and organised camps for the local children who are mostly Romanians. We also assisted the Brothers who gathered and fed the homeless and drug addicts at a local day centre.
TS: What were the greatest hurdles you had to overcome on a personal level?
Having to feed a disabled adult person, witnessing the lack of access to healthcare, as well as experiencing what was considered as the norm for the local children we met during the camps. The persons we met did not know English and we did not know Romanian. Not knowing the language, we resorted to using sign language, basic words, and just hugging when we couldn't understand what was happening. Then we had to settle at night with the screams and shouting coming from the quarters of the mentally disabled patients. However, the initial shock quickly passed and we grew to love the residents at the home. Leaving was hard, both for us and for the people we met there. The rift of separation became more evident upon arriving for our second visit. One of the patients actually ran out to greet us with open arms and great enthusiasm. He remembered us with warm feelings. Needless to say, it was hard to say goodbye again.
TS: Would you do it again?
Most certainly. Perhaps not in Romania, perhaps yes. I would like to experience other missions. Romania has taught me a lot about survival, self-reliance, the appreciation of a simple lifestyle – we didn't need our mobile phones or social media. You hear abominable stories of desertion and neglect but at the same time amaze yourself with the ensuing stories of survival, regardless of all obstacles. The children in Romania crave love. Our visit was only a drop in the ocean. We had to accept that as much as we wanted we could not change their life, however, in our small and humble way, we managed to give the people we met some joy and warmth at least for one day.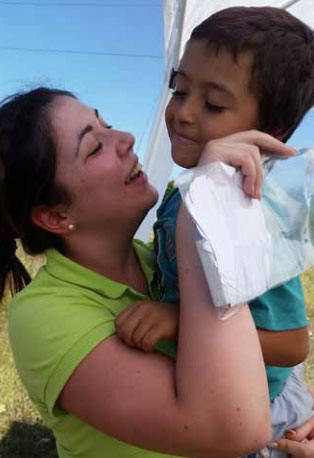 Tags In