Move over Dr Who…..
by Marika Azzopardi
There never seems to be a dull moment around Victor Grech … Professor Victor Grech. This busy 45-year-old projects energy and alert enthusiasm even whilst maintaining a calm demeanour in the process of contemporarily answering my interview questions, replying to calls and painting a seascape. I sit back relaxed in my observations as I note down comments with one eye on the developing painting and another on the endless collection of shelved sci-fi books in Professor Grech's study.
First things first. Victor Grech is a paediatrician who, way back in 1994 decided to specialise in paediatric cardiology at the Great Ormond Hospital in London. His first doctorate tackled Congenital Heart Disease in Malta and was based on observations carried out back home. Married to a pharmacist and the father of two young children, means that, in his own words, "As a parent I understand children better, and arm myself with more patience when dealing with their own parents." That was his objective reply. When asked for a subjective one, he replied, "The scariest bit of being a paediatrician and a parent was waiting for my children to be born, knowing that there were a million things that could go wrong and praying none of them would touch our babies. Yes indeed, ignorance is bliss in this kind of situation and knowing all about what can possibly go wrong is definitely not always helpful."
As a general paediatrician Professor Grech's patients present with a wide range of medical problems but the most common problems he faces are minor infections namely caused by respiratory problems. However, he also added that notwithstanding the medical problems which he sees, the evolution of our social enmeshment means that, "A new phenomenon that we are facing is that involving children who develop psychological problems during or after their parents' separation. There is really a great deal of trauma out there."
On the other hand, as a paediatric cardiologist his patients range from newborns to 60-year-olds who had their first heart surgery done when they were babies and who, today, require attention at the Grown-Up Congenital Heart Disease clinic. He holds this clinic once a month in conjunction with an adult cardiologist. Where infants and children are involved, he carries out interventional cardiology which allows him to enter the body through the groin from where he can introduce instruments to treat relatively simple cardiac problems such as narrow or leaking valves, and holes in the heart. This also means that he is the only Maltese paediatrician who carries out such surgical interventions.
Incidentally Professor Victor Grech is also the most published doctor in Malta. Apart from publishing on paediatric cardiology and general paediatrics, he also lectures on both topics at the University of Malta. Recently he brushed shoulders with a totally different department at the University of Malta – the Faculty of Arts, and this is where his passion for science fiction comes in. "I have been an avid sci-fi reader since the age of seven when I read a juvenile sci-fi author called Hugh Walters. I have been hooked ever since, and today I really cannot tell you how many sci-fi books I have read so far – definitely thousands. I have a collection of some 1500 books here, not to mention the collection of Analog magazine. I've read most of that, and I have practically the whole collection from 1938 to present day, which I have accumulated over the years in a staggered fashion."
Professor Grech tells me that today his favourite sci-fi author is Robert Heinlein whose personal philosophy has particularly inspired him as a man of science. He has also been inspired by the likes of John Varley as well as by John Campbell who is considered to have been instrumental in changing the face of science fiction literature. "Before Campbell, science fiction was essentially pulp fiction, and the front covers of older sci-fi literature are all about weirdly shaped and eccentric monsters attacking terrified humans. Today sci-fi is more complex and vast, verging of some absolutely unexpected issues, as well as some rather terrifying diversities that are slowly creeping in to taint people's visual image of sexuality." One of the aspects that particularly inspire Professor Grech is the issue of infertility and sterility as tackled in sci-fi literature. He explains that this led him to approach the Faculty of Arts proposing a thesis on 'Infertility in Science Fiction'. An advanced draft of this has been very recently completed, and passed on to his supervisors Claire Thake and Ivan Callus.
And then comes the art. "When I turned 40, like most other adults, I had my very own mid-life crisis to deal with and somehow this spurred me on to start painting. I have been painting regularly and earnestly ever since, thanks to the great inspiration and unofficial teaching provided by the Impressionist John Borg Manduca from whom I have learnt how to paint in oils with the help of a palette knife. I love doing seascapes mostly, and I find it relaxes me somewhat. It is my own way of switching off." As I take leave of Professor Grech, I wonder how many of his junior patients know about his intriguing interest in science fiction and his artistic streak. As I exit Pembroke, a strangely vivid image of Goldrake and Mazinga Z flying through a Monet-like seascape accompanies me home….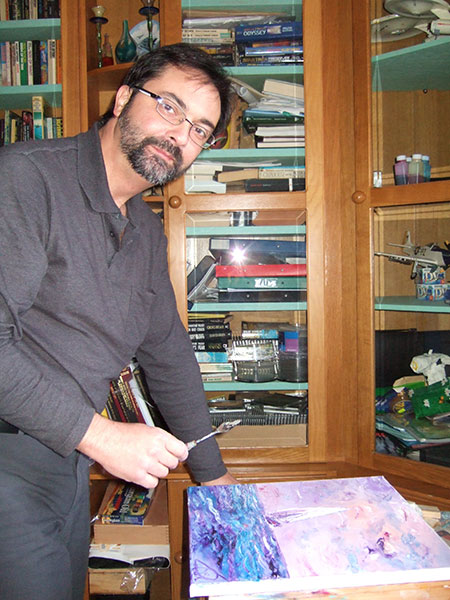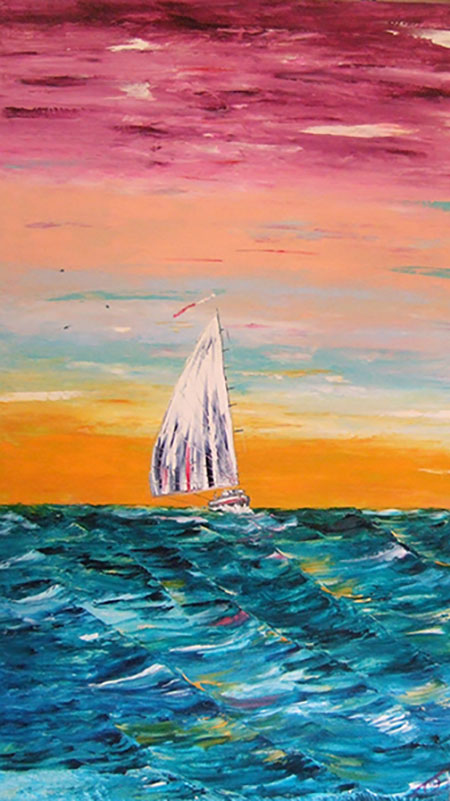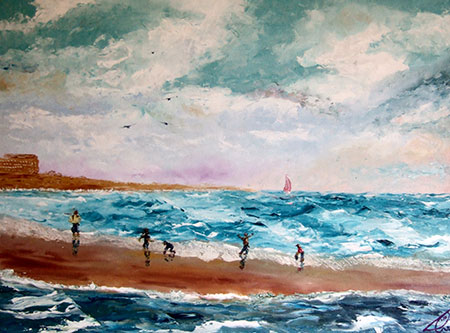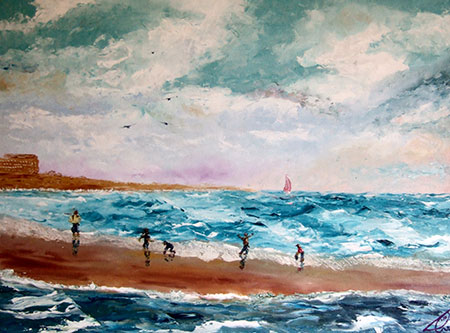 Tags In