Trastuzumab Continues to Show Life-Altering Benefit
Years After Treatment for HER2-Positve Early Stage Breast Cancer, Trastuzumab Continues to Show Life-Altering Benefit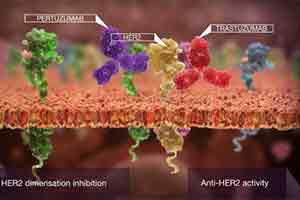 After following breast cancer patients for an average of eight-plus years, researchers say that adding trastuzumab (Herceptin) to chemotherapy significantly improved the overall and disease-free survival of women with early stage HER2-positive breast cancer.
They found that the use of trastuzumab produced a 37 percent improvement in survival and a 40 percent reduction in risk of cancer occurrence, compared to patients treated with chemotherapy alone.
These findings, published in the Journal of Clinical Oncology, demonstrate how important trastuzumab has been to the treatment of this form of breast cancer, says the study's lead author, Edith A. Perez, M.D., deputy director at large, Mayo Clinic Cancer Center and director of the Breast Cancer Translational Genomics Program at Mayo Clinic in Florida.
"This long follow-up of patients shows that we have really altered the natural history of this disease," says Dr. Perez. "Herceptin works — and it works for a long period of time. The drug has impacted the lives of many women worldwide."
HER2-positive breast cancer accounts for 15-20 percent of invasive breast cancers. Before the development of trastuzumab, women with early stage breast cancer faced a worse prognosis than those with HER2-negative breast cancer, including quicker relapse, higher incidence of metastasis, and shorter survival, according to Dr. Perez.
The study reports long term findings from two randomized phase III studies that led to U.S. Food and Drug Administration approval of Herceptin use in early stage HER2-positive breast cancer. The studies were N9831, led by the North Central Cancer Treatment Group (NCCTG) Alliance, and NRG B-31, led by the National Surgical Adjuvant Breast and Bowel Project.
A combined 4,046 patients were enrolled in the studies, which tested the addition of trastuzumab to chemotherapy after surgery. All patients received doxorubicin plus cyclophosphamide, and then half received paclitaxel with trastuzumab and the other half were treated with paclitaxel alone.
The improvement in overall and disease-free survival was seen in all subgroups, including older and younger patients, patients with node-positive and node-negative cancers, as well as estrogen-positive and estrogen-negative cancers.
The findings also confirmed long-term safety of trastuzumab, Dr. Perez says. Over eight years, there was no increase in the incidence of secondary cancers and only a minor increase in heart problems, she says.
The regimen using trastuzumab is the standard of care for early stage HER2-positive breast cancer. Trastuzumab was first tested in metastatic HER2-positive breast cancer and also showed significant benefit.
---
Source Newsroom: Mayo Clinic