Research for non researchers – presenting your research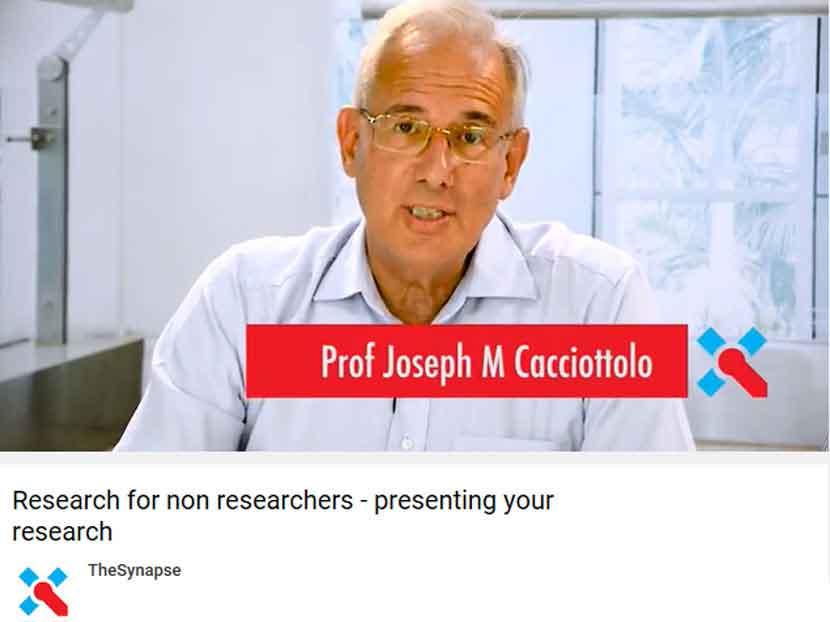 This video is Part three of a three part series of videos on research intended for both undergraduate and post graduate medical professionals interested in carrying out research as part of their professional development. 
After collecting your data using the right sampling methods, analysed your data and making your own conclusions, there just remains what is probably the most important step in the whole research project and this is the presenting of your data in a way which makes most impact to your audience.
In this video Prof Joseph Cacciottolo discusses how best to present your data depending on your audience and medium for presentation.
Joseph Cacciottolo is Pro-Rector for Academic Affairs. He was appointed Associate Professor in 1998 and Professor in 2004. He coordinates the Humanities, Medicine and Science Programme within the Faculty of Arts and was Head of the Department of Medicine and Deputy Dean of the Faculty of Medicine and Surgery.
He is a consultant physician and taught clinical medicine until 2014. He qualified in medicine in London and holds the MD degree from the University of Malta. He underwent training in respiratory medicine in England, and trained in cardiovascular epidemiology at the University of Dundee, Scotland and at the University of Eastern Finland from where he was awarded the DSc degree in 1990. He was elected MRCP in 1980, FRCP in 1994, FCCP in 1996 and FRCPE in 2010. He was World Health Organisation Fellow and held an International Fellowship of the American Association for Respiratory Care at Cleveland Clinic, Ohio and at Texas Medical Centre, Houston. He was Principal Investigator for the WHO-MONICA Project, and CINDI Programme. He was involved in the formulation of national clinical practice guidelines for the management of several respiratory disorders, supplementary oxygen therapy and hypertension.
At the University of Malta, Professor Cacciottolo is member of the Council and the Senate, and chairs the Programme Validation Committee, the PhD Committee and the Boards of several other academic entities. He is Co-Chair of the Institute for Public Services and is associated with the Faculty of Social Wellbeing, the Institute of Earth Systems, and the Centre for the Liberal Arts and Sciences.
Professor Cacciottolo is Forum Chair on the President's Foundation for the Wellbeing of Society, chairs the 'Endeavour' scholarship selection board of the Ministry of Education and is member of the Malta Guardianship Board. Since 2007, he has been International Adviser to the Royal College of Physicians and is involved in various aspects of higher education, addressing programme construction, and quality assurance issues in European universities. He does pro-bono advisory work for the Down Syndrome Association, the Ministry of Health Live Organ Transplant Advisory Committee, Hospice Malta and the Scout Association.
Subscribe to TheSynapse YouTube Channel
[iframe width="100%" height="415″ src="//www.youtube.com/embed/FjUJkPyA5Fw" frameborder="0″ allowfullscreen ]
Tags In