New Gastrointestinal Diagnostic Modalities: Capsule Endoscopy
by Thomas M. Attard MD, FAAP, FACG
Consultant Paediatrician, Gastroenterologist,
Mater Dei Hospital
With an approximate length of 15 feet, the small intestine presents a daunting challenge to the clinician faced with symptoms referable to this relatively inaccessible area. In the last decade, capsule endoscopy (CE) has established an increasingly broad niche in the diagnostic armamentarium of both paediatric and adult clinicians ; it is now the established standard of care in the work up of obscure gastrointestinal hemorrhage (negative upper and lower endoscopy), suspected Crohn's Disease, polyposis syndromes and arguably, chronic abdominal pain.
Capsule endoscopy usually involves an overnight fast. At the time of the study sensors (similar to ECG array) and a Holter-like receiver device are attached to the abdomen. The patient is asked to ingest a small pill-like device about the size of a vitamin pill (measuring 11mm x 26mm) with a glass of water, and then can resume normal daily activities. After 8 hours the patient returns to the clinic to return the receiver device; the images are then downloaded on a standard PC for viewing. The pill passes naturally with a bowel movement, usually in less than 24 hours. Patients, including children, unable or unwilling to swallow the capsule can have it placed endoscopically; the procedure can be performed in adults and children weighting over 15 kgs.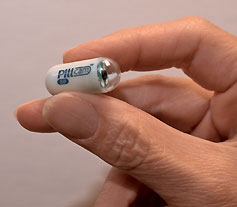 Capsule endoscopic findings include mucosal abnormalities including alterations in color; egs. erythema, surface contour including nodularity, erosions and ulcers, luminal contour abnormalities including extrinsic compression, intramural mass lesions, polyps and strictures and stenoses. Coeliac disease may be associated with very characteristic scalloping of the intestinal mucosa in the duodenum and jejunum albeit the standard of care to diagnose celiac disease remains endoscopically-obtained biopsies showing villous blunting, crypt hyperplasia and intraepithelial lymphocytes.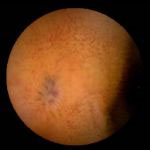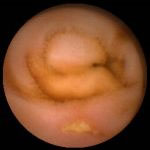 Figure 1. Venous malformation (L) and jejunal ulceration (R) on Capsule Endoscopy
Indications for Capsule Endoscopy
CE may disclose a variety of small intestinal causes for gastrointestinal bleeding, including tumors, telangiectasia, ulcers and erosions including NSAID enteropathy. With recent advances in the CE software that is available, including locally, the images exhibiting possible bleeding are automatically identified and rendered more prominent for the reading professional, emerging refinements include altered light characteristics rendering the small intestinal vascular pattern more prominent assisting the detection of pathologic mucosal abnormalities.
Obscure gastrointestinal bleeding, defined as suspected chronic gastrointestinal hemorrhage in the context of negative both upper and lower endoscopy may be caused by a variety of lesions including small intestinal malignancy. CE is a safe, non-invasive, easily performed procedure that allows visualization of the entire small bowel. Two meta-analyses support the value of CE over push-enteroscopy in clinical practice, with an incremental yield of CE of 0.30 1,2. In addition, both push and double balloon enteroscopy depend on operator experience and are more invasive. A strategy employing CE and endoscopic enteroscopy in tandem appears to give best diagnostic yield and risk benefit ratio3,4 . Negative CE findings in obscure GI hemorrhage are reassuring in that the incidence of rebleeding is exceedingly lower in negative compared to positive studies (5.6 cf 48% p=0.03)5. The International Conference on Capsule Endoscopy (ICCE) has published a widely supported management algorithm on obscure gastrointestinal hemorrhage (Figure 2)6.
Figure 2. Proposed Management of Obscure GI Hemorrhage  (International Conference on Capsule Endoscopy 2005)
Abbreviations:
PE push enteroscopy
DBE double balloon enteroscopy
IOE intra-operative enteroscopy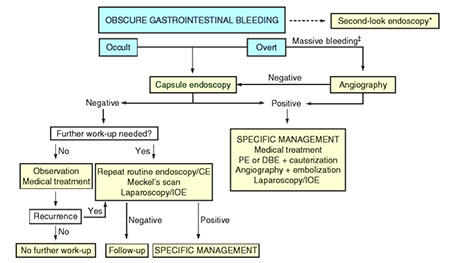 Inflammatory Bowel Disease
Small intestinal involvement is the often elusive, defining pattern of involvement in Crohn's Disease. Given that there is no 'gold standard' in diagnosing small intestinal Crohn's Disease, CE appears to be more sensitive, especially for early and more proximal small intestinal mucosal lesions, than all other imaging modalities. This includes small bowel series, CT enterography and Magnetic Resonance Imaging7. CE has consequently been shown to be useful in the investigation of indeterminate colitis with 29 – 40% of studied populations diagnosed with small intestinal lesions, therefore Crohn's, with important management sequelae 7,8,9,10.
Small Bowel Tumors
Capsule Endoscopy has also rendered the diagnosis of small bowel tumors earlier with likely better prognosis, still however critically dependent on the histologic subtype. SB tumors are diagnosed in 2.5 – 12% of studies performed in adult patients. The most common indication in patients subsequently diagnosed with tumors is anemia or obscure GI hemorrhage. Most tumors (60%), are malignant, including adenocarcinoma, carcinoid, melanoma and lymphoma. Benign lesions include GIST (gastrointestinal stromal tumors), hemangiomas and hamartomas11.
Coeliac Disease
The diagnosis of Celiac disease (CD) requires a combination of characteristic histologic abnormalities, and response to a gluten free diet. Capsule endoscopic abnormalities include duodeno-jejunal areas of fissuring, loss of villi and a scalloping mucosal pattern. CE is as accurate as histology in identifying severe spue12,13,, it is useful in determining the extent of involvement 14 and in the detection of associated small intestinal malignancy – notably T-cell lymphoma and adenocarcinoma.
Complications and Limitations of Capsule Endoscopy
Problems with CE are rare, the commonest being inability to ingest the capsule. Capsule retention or failure of complete passage through the intestine is exceedingly rare but cannot be predicted by prior normal small bowel series. The passage of a sham (lactulose-coated) dissolvable capsule obviates both the patient's ability to swallow the capsule and the potential for retention of the same-sized device capsule.  More commonly (15 – 20% of cases in some series), slow gastric emptying or delayed small intestinal transit time may lead to incomplete small intestinal visualization. Measures including prokinetics and positioning appear to improve the diagnostic yield from CE.
The limitations of CE include the inability to biopsy abnormal areas and potentially a limited number of images of areas of interest. Although a steerable device is reportedly being studied the ability to direct biopsies appears distant. Centers of excellence have evolved programs including push- or double balloon enteroscopy to allow controlled visualization and biopsy of CE detected abnormalities.
In summary, capsule endoscopy appears to be a safe diagnostic modality that has an established niche in the investigation of diverse gastrointestinal disorders in children and adults; most notably obscure gastrointestinal bleeding, including unexplained anemia, suspected inflammatory bowel disease or indeterminate colitis. It shows promise in the detection of small bowel tumors, polyps and celiac disease.
Tags In